Week 4 of the NFL season is officially upon us, which means one thing; the beginning of the bye-week gauntlet. As players begin to take their selected weeks off, making the smart moves when shuffling guys around becomes a crucial decision that can ultimately make or break your season. When automatic starters don't have games, it's on the fringe players to fill in with big roles. However, use caution before you simply slide in that one guy to fill a usual starter's spot (Tarik Cohen). Although it may seem like an easy decision, paying attention to matchups and trends becomes even more important when searching for successful bye-week fill-ins. Think of it less as which player is the most attractive bye-week substitute, and more like which available player is best Week 4 starter. This week the Panthers and Redskins go on hiatus, so there's sure to be some definite needs at skill positions. As we kick off the bye-week gauntlet, I've detailed which fringe players are producers or pretenders.
Start 'Em: RB Kerryon Johnson @ Dallas Cowboys
Kerryon Johnson hits 100 yards on the ground.

The Lions haven't seen that in 70 (SEVENTY!) games.pic.twitter.com/xnEfuZwW5a

— Sporting News (@sportingnews) September 24, 2018
The Lions' rookie back is slowly becoming a verified versatile run and pass catching threat out of the backfield. Owners have seen a steady rise in point production over the first three weeks, something directly related to his increased workload. Johnson is owned in nearly 75% of ESPN leagues, but slotted as the starter in just 18%. Next comes the matchup. The Cowboys have been fairly generous to opposing running backs this season, allowing over 22 points per game in PPR. Opposing defenses have no choice but to key in on the Lions plethora of wide receivers, therefore Kerryon my wayward son.
Sit 'Em: WR Robert Woods vs Minnesota Vikings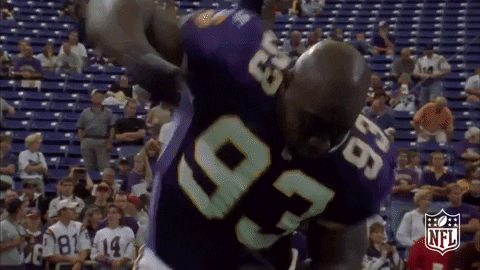 Filling the flex position is a weekly struggle for many fantasy owners. If you drafted Robert Woods, chances are good you were banking on a breakout season. So far, Woods has given owners temporary peace of mind as his performance has been promising. It seems like Jared Goff has found his favorite option on offense, as Woods leads Rams receivers in targets (29). Despite the head-shaking loss to the Bills in Week 3, the Vikings defense will rebound in Week 4. I believe Zimmer forgot about the game against Buffalo and has been scheming for the Rams for weeks. With that in mind, I expect some of the more popular but less skilled receivers like Robert Woods to get shut down by the tenacious Minnesota secondary.
Start 'Em: WR Tyler Lockett @ Arizona Cardinals
In 2018, all Tyler Lockett does is score TD's and gain hearts. pic.twitter.com/MeA0sHP4qn

— C.J. Tumbarello (@TumbarelloHB) September 23, 2018
Now in his fourth season, Tyler Lockett has become one of the last bright spots of optimism for Seahawk fans. Lockett has racked up three touchdowns in three games, half of his career high for touchdowns in a season. The Seahawks' WR1 is quietly averaging 16.7 ppg in PPR, and has more total points than other more attractive names like T.Y. Hilton and Keenan Allen. Although the offensive line issues have been well-noted for the Seahawks, Russell Wilson is still a bonafide playmaker; if Tyler Lockett can get open, Wilson will find him.
Sit 'Em: QB Ben Roethlisberger vs Baltimore Ravens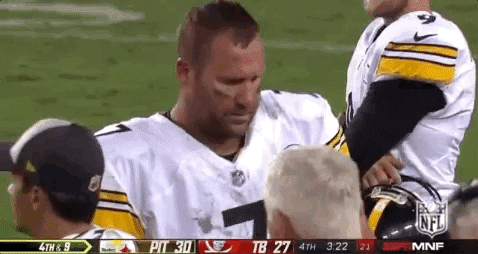 This could backfire big time, but Big Ben is still an "every other week" QB to me. So far this season he's shown mixed results, starting off poorly against Cleveland then following it up with two big games. Therefore, I find a Week 4 regression inevitable. The Ravens couldn't excite me any less, however I must give props to their defense. Baltimore has allowed the fewest yards per game (273) and is 5th in points allowed per game (17). The Steelers possess the weapons to drastically skew these numbers, yet Big Ben is too inconsistent to give me confidence that that will happen.
Start 'Em: TE OJ Howard @ Chicago Bears
And the #Bucs clap back!

OJ Howard dives in for the touchdown to tie the game up 7-7. #ATLvsTB pic.twitter.com/9oPwtUpRro

— Sporting News Canada (@sportingnewsca) December 19, 2017
The Chicago Bears defense is a force to be reckoned with. Part of me feels weird writing a Start 'Em about the 4th ranked tight end, but O.J. Howard is still owned in only 42% of ESPN leagues. I'm not sure if the Bucs' platoon approach to tight ends has some owners scared off, but there should be no question that Howard deserves attention. Chicago's vicious pass rush puts productive passing plays at a premium, leaving QBs looking for other options. Fitzpatrick is a veteran quarterback capable of making the right decision, so I think OJ Howard will get a fair amount of looks as the safety valve in Week 4.
Sit 'Em: TE George Kittle @ Los Angeles Chargers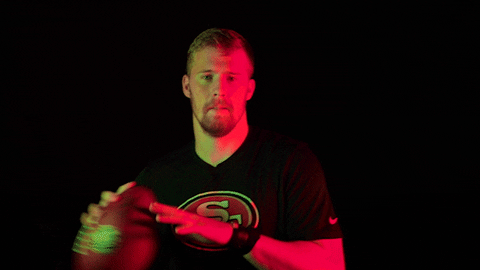 It's hard not to feel bad for the San Francisco 49ers. With Jerick McKinnon and Jimmy Garoppolo both going down with ACL injuries, this offense is bound to see a drop off. We got a look at C.J. Beathard last year and that was enough to know that the season may be over with him under center once again. As much as Matt Breida should take advantage of a virtually empty QB position, every pass catching option will suffer greatly. Tight ends have been somewhat of a wild card this season as a whole, so George Kittle is not immune to finding the bench. The Chargers defense isn't as bad as the box scores show, and I have a feeling Week 4 will get ugly for the Niners.